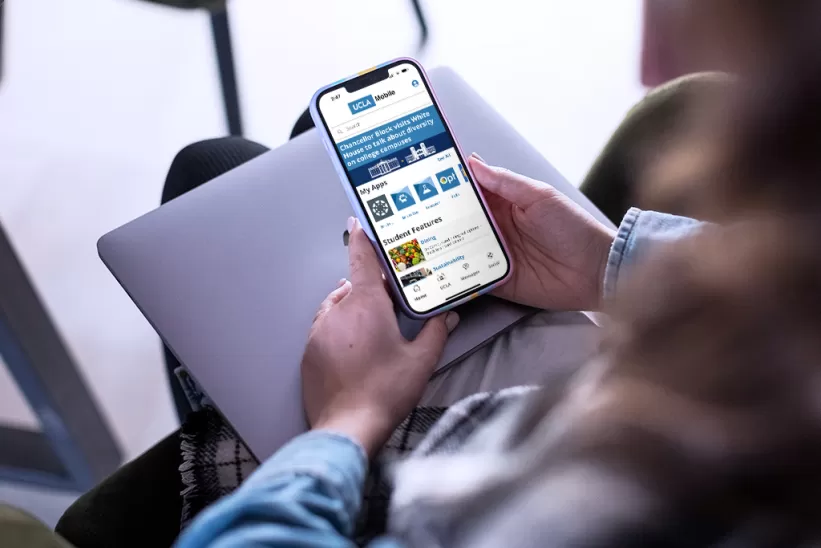 UCLA Mobile App 
The UCLA Mobile app is UCLA's campus app. It is an aggregator of UCLA's mobile presence, designed to reach our vast community and varied audiences, and a portal to UCLA's dynamic app landscape. The UCLA Mobile app is a jumping-off point for UCLA-associated apps and mobile-friendly websites, all collected into a single dashboard. The app features app-to-app launches so that when a user selects another app from within UCLA Mobile, it will open on their device.
Each user can customize the apps that appear on their dashboard and choose to display the UCLA apps that are most important to them. There are six available dashboards that aggregate community-specific resources and information. To switch between audiences first click the person icon in the top right hand part of the app and then select an affinity dashboard, and then click the back button. Each user can further refine their dashboard by editing the list of apps that appear under My Apps. They can select a subset of options to display from UCLA mobile-friendly web applications and UCLA-approved apps, also represented via the UCLA App Catalog, that are developed or managed by many units from all over the UCLA community, such as CCLE Mobile and the Box app.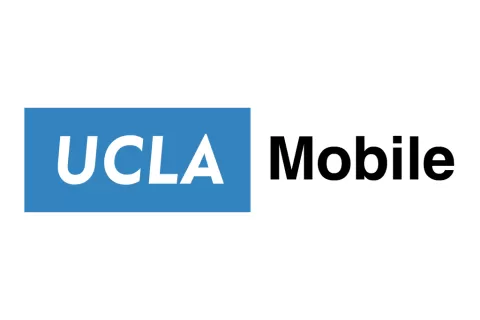 UCLA Mobile features a dashboard, news feed, and links to resources. It also includes messaging capabilities through an opt-in set of channels for students, staff, faculty, visitors, and alumni. 
UCLA Mobile is available on the iOS store as well as the Google Play Store.
UCLA Mobile App Privacy
UCLA Mobile is governed by the UCLA Mobile Steering Committee.  The committee meets quarterly and is composed of faculty, staff, and student representatives. The app adheres to the following privacy policy. 
UCLA Mobile offers an option to login. This login authenticates a user with UCLA's Identity Management system (Shibboleth). 
A user of the UCLA Mobile app may personalize the dashboard seen when opening the app. The information that is used to "personalize" your experience is saved only locally on your own device. It is not collected by the UCLA Mobile app catalog.
UCLA Mobile offers messaging channels. The UCLA Mobile app collects device id information when a user opts-in to receive messages via SMS or Email. This process does require a validation step and can be opted out of at any time. If a user has only opted-in to receive the default of "push" messages, then no device ID information is required. Push messages are delivered using de-identified tokens. UCLA Mobile does however feature links to other apps, such as the Box app, which will have their own privacy policy. 
Once logged in, UCLA mobile users may use the app to display their UCLA Campus COVID clearance certificate which is sourced from the UCLA COVID clearance portal system. A users' ID, name and email information is collected to support user experience only.  No data is shared with any third party nor any data broker. A user's COVID-19 clearance is saved locally in the app for up to 20 hours, after which it must be refreshed. Login usage data is stored solely for user support purposes.
Children's Online Privacy Protection Act Compliance
UCLA Mobile is in compliance with the Children's Online Privacy Protection Act (COPPA).  We do not collect data from anyone under the age of 13.
UCLA mobile is in compliance with the California Consumer Privacy Act. We do not distribute any data to any third parties. 
By using the UCLA Mobile app, you consent to our privacy policy.
If we decide to change our privacy policy, we will post the changes at this location, and we will note the date it was last modified. This policy was last modified on 8/09/2020.
UCLA App Catalog
The UCLA App Catalog is a collection of all of UCLA's mobile friendly tools, including native apps and mobile friendly websites. It has been integrated with the UCLA Mobile app, so that UCLA-approved apps are able to appear on the UCLA Mobile dashboard. UCLA employees with an official department or research initiative app can submit an app to appear in the UCLA App Catalog by logging in to the catalog with their UCLA Logon ID. We can even host your privacy policy on the app catalog for free.