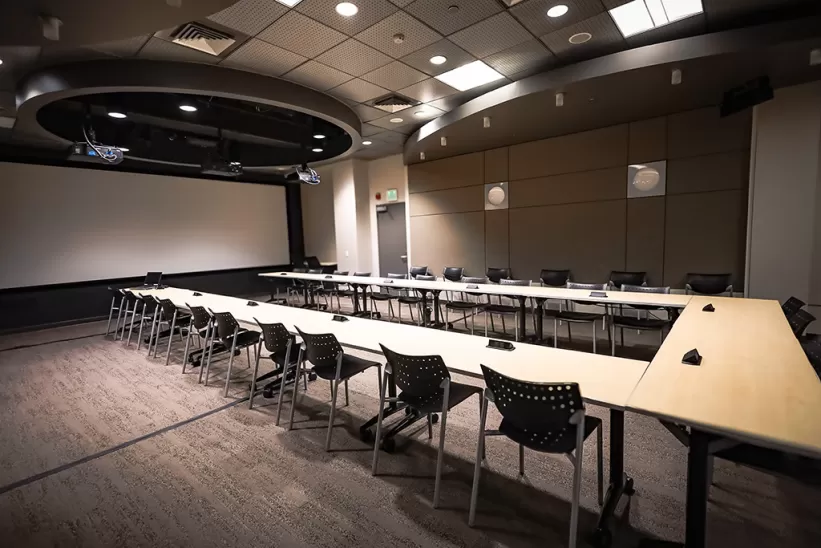 The Portal provides a state-of-the-art presentation and meeting facility for UCLA faculty researchers. It is used to host OARC and IDRE-sponsored classes, seminars and presentations, and it is also a meeting space for OARC's partnership communities. It can be reserved for UCLA events by request.
Location: 5628 Math Sciences Building
At a Glance
The Portal is a dedicated presentation and meeting room with advanced display and conferencing capabilities. The screen is suitable for sharing large-scale, interactive models. The furniture is movable, which allows the space to be configured in a variety of ways depending on the event. Use of the Portal includes the support of dedicated AV experts.
Large, 20-foot wide by 7-foot high screen with 3840 x 1200 screen resolution.

Seating for up to 68 attendees when arranged theater-style, and up to 40 attendees when arranged classroom-style, with other configurations available.

Video conferencing.

Dedicated AV team and setup.
Available for campus events on a scheduled basis that make effective use of OARC's staff and resources.

Events can be scheduled from 8 a.m. to 5 p.m.

While OARC strives to provide flexibility to the campus in using the Portal, all events are subject to facility and staff availability and must be approved and scheduled in advance.
Details
Three digital projectors are used to project an image across a 7-foot high and 20-foot wide screen with 3840 x 1200 screen resolution.

The Portal has multiple AV connection boxes throughout the room. This makes it easy to position video cameras, laptops, video conferencing devices, and teleconferencing units almost anywhere in the room.

Tandberg video conferencing and Polycom teleconferencing are supported.

Two Apple AirPlay devices can provide wireless streaming support for iOS devices.

Blu-Ray and 5.1 surround sound are available.

A variety of microphones consisting of both wired and wireless, handheld, desktop, and lavalier are available for use in the Portal.
The OARC Events Team and the Front Desk Staff are responsible for maintaining the Portal infrastructure and providing support for meetings and events. The basic Portal services are provided Monday through Friday during normal business hours, and include:
Scheduling of Portal events. To schedule your meeting or event send an email to events@oarc.ucla.edu. Some of the details which you will be asked to provide are as follows:

Estimated number of people that will be attending the event must be supplied.

Requested configuration of the Portal's furniture based on the type of event that is being planned.

Whether the event will be catered.

Coordination with the event sponsor for catering. Please note: the responsibility for ordering food rests with the group scheduling the event. We ask that a copy of the catering order be sent to the OARC Events team along with an explanation of how the refreshments will be set up. It is your responsibility to see that all refreshments and catering items are removed from the Portal and that the room is clean.

Cleanup of the Portal after the event.

Setup of the Portal AV system to accommodate the scheduled event.

AV support, such as videotaping, video conferencing, or complex set-up specific to scheduled events may be available at a charge to the event sponsor. 
Please note: Events taking place outside of normal operating hours are not generally scheduled, however, exceptions can be made on a case-by-case basis. Events that are permitted to be scheduled outside of the 8 a.m. to 5 p.m. Monday through Friday time frame are subject to staff availability and recharge for staff overtime. Contact us for special requests. Normal OARC recharge rates will be applied for these special requests.
Groups will provide all content for their Portal presentation. Ideally digital content (PowerPoint slides, videos, websites, etc.) should be provided to the OARC Events Team approximately 24 hours before the scheduled event.
The Portal has the technology available to show interactive, computer-generated models, however, the presentation of these models must be made by the mo
UCLA Classes
The Portal is not available as a facility for regularly scheduled UCLA classes. However, certain UCLA classes may be scheduled in the Portal, following these guidelines:
The class is scheduled on a one-time basis.

The class has a specific need for Portal content or technology.

A speaker is provided by the faculty member to present their content; OARC does not have staff available to deliver discipline-specific content or fly models.
School Visits and Field Trips
The Portal can be made available to schools, following these guidelines:
Sixth grade classes and higher only; the Portal does not have content relevant for students in lower grades.

Classes must have a specific interest in Portal content (e.g. Roman Forum, etc.)

School-supplied adult supervision is required.

The Portal is not an appropriate facility for schools to hold assemblies with their own content.

A speaker and "flier" must be arranged by the teacher to present Portal content; OARC does not have staff available to deliver discipline-specific content or fly models.
General
Any problems or issues encountered in the Portal should be reported immediately to OARC Event staff.

The event should begin and end as scheduled.

No items should be tacked, nailed, or pinned onto the walls, furniture, etc.  Post-its are allowed.

Noise levels should be maintained at a comfortable level as not to disrupt surrounding staff offices and classrooms.

Deliveries of event materials must be managed by event organizers. Storage of event materials will not be provided for event materials prior to and after the event.

Meeting attendees must use designated area only. Use of adjacent conference rooms is not permitted without prior consent and scheduling.
Catering, Food and Alcohol
Catering must be ordered through UCLA Catering or ASUCLA Catering and a copy of the order must be given to the OARC Events team at least 24 hours in advance of the event.

All food and catering costs and arrangements are the responsibility of the event host.

The event host must make the OARC Events team aware of all catering arrangements, including whether alcohol will be served.

All food and catering items must be removed by the host group within one hour of the end of the event.

White wine only is allowed. No other alcoholic beverages can be served in the Portal.

Absolutely no guests under the age of 21 can be in the Portal if alcohol is to be served.
The Portal has sophisticated technology and requires OARC staff to be present to operate it at all events. If an event goes past the 5 p.m. end of the working day, there will be a charge for staff time.
Catered Meeting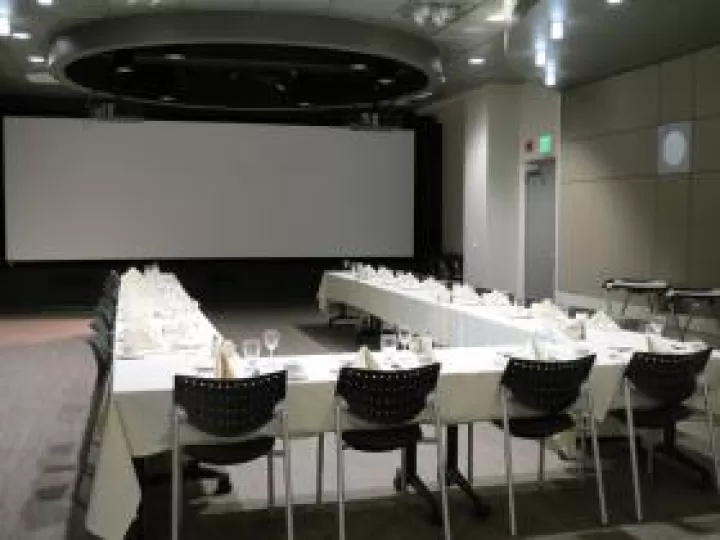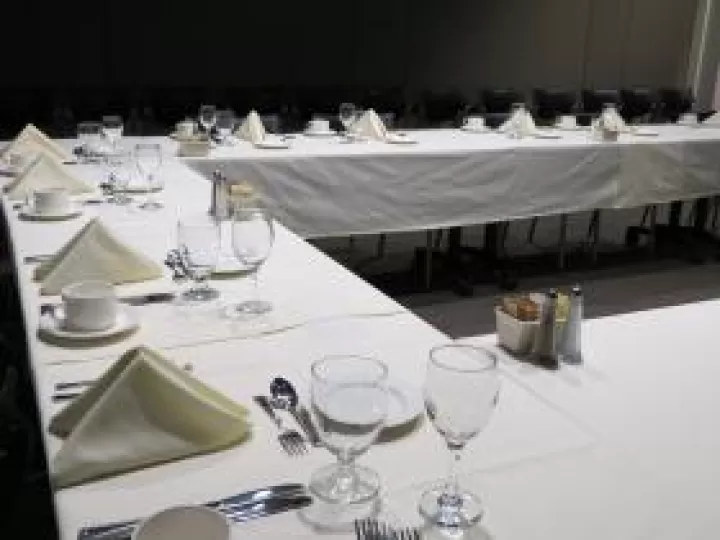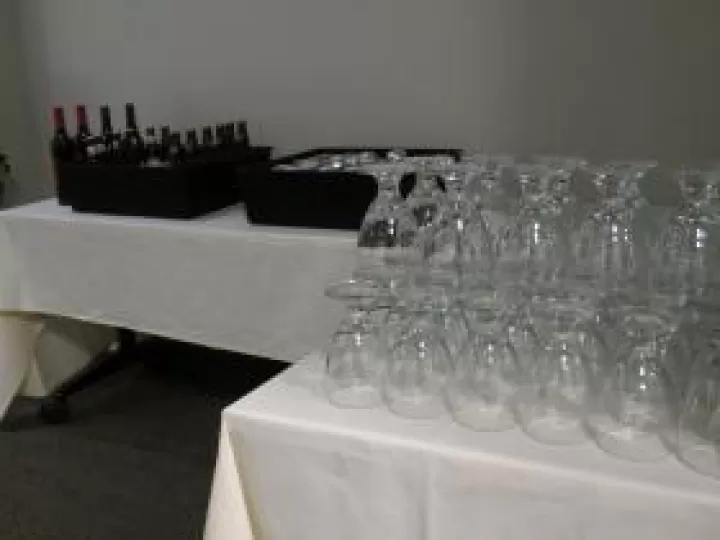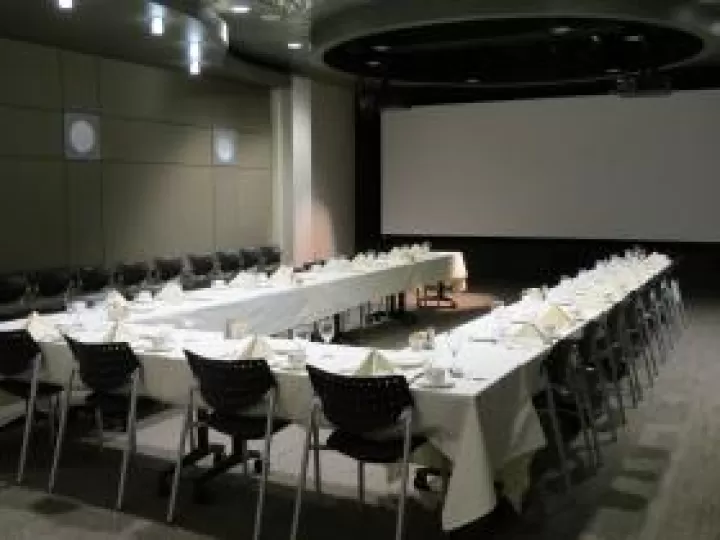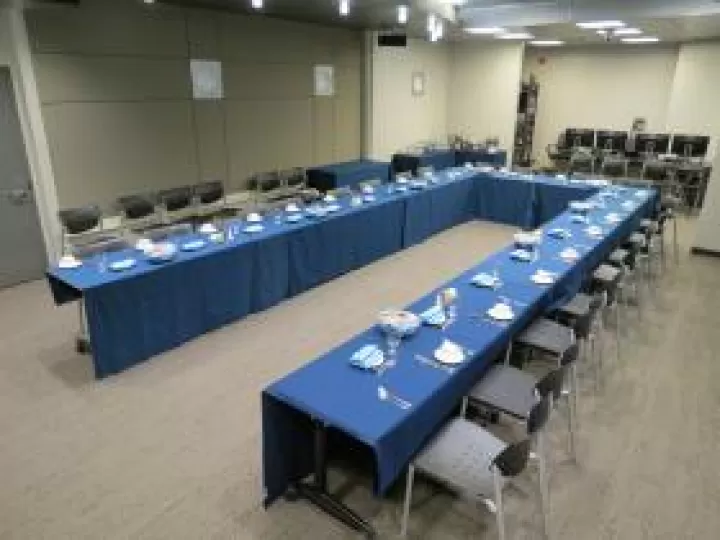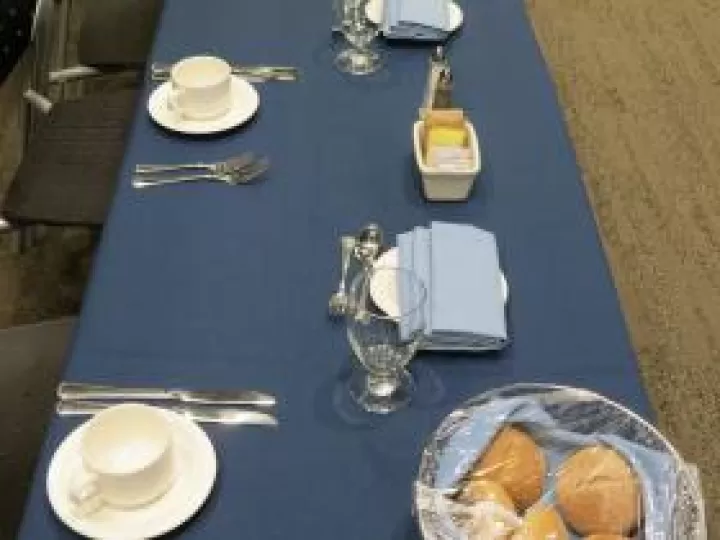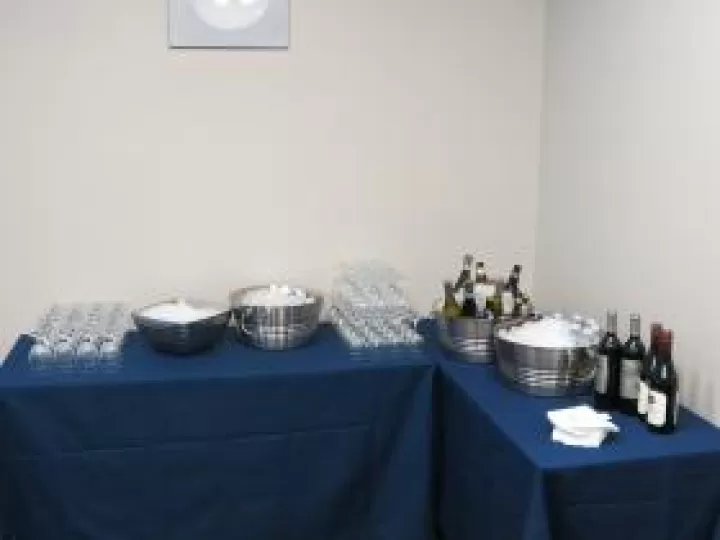 Classroom Seating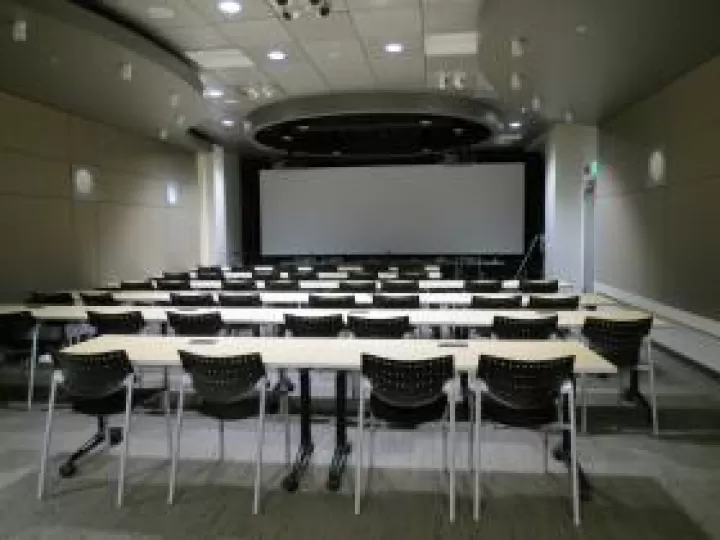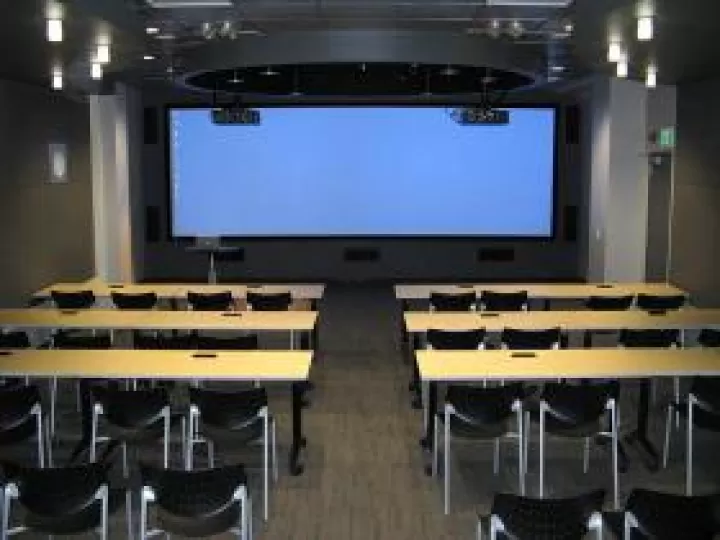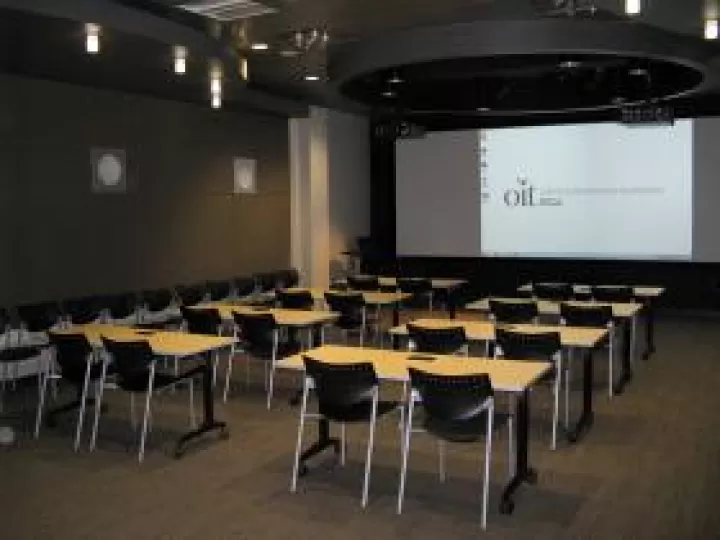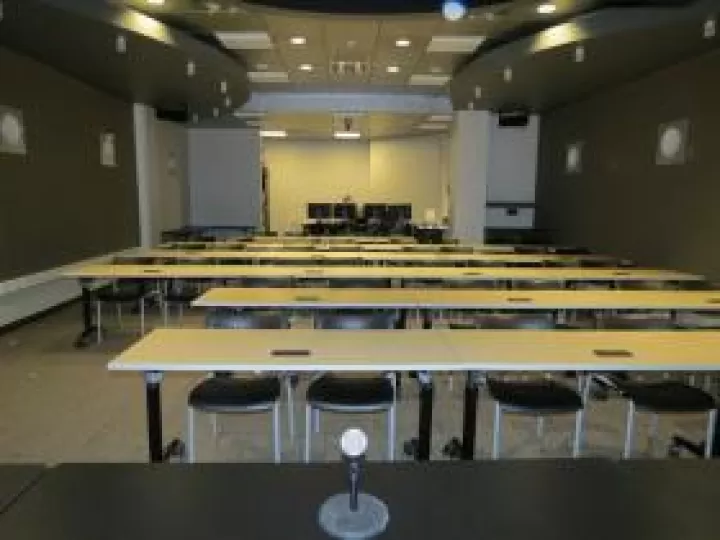 Grouped Tables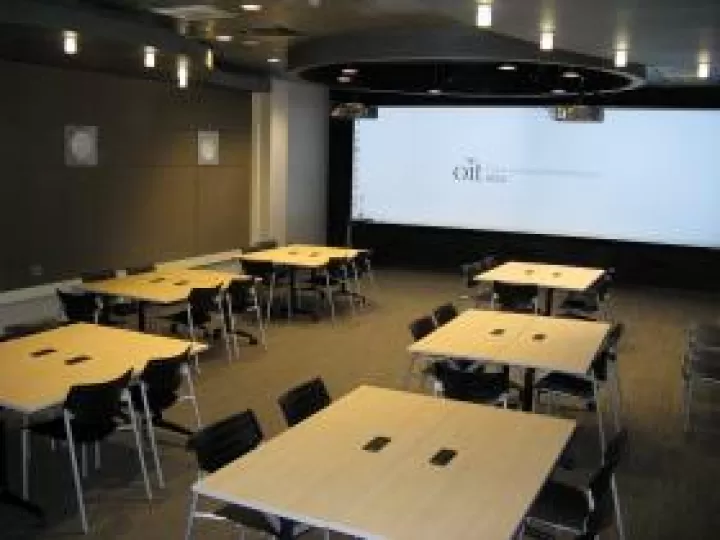 Lecture Seating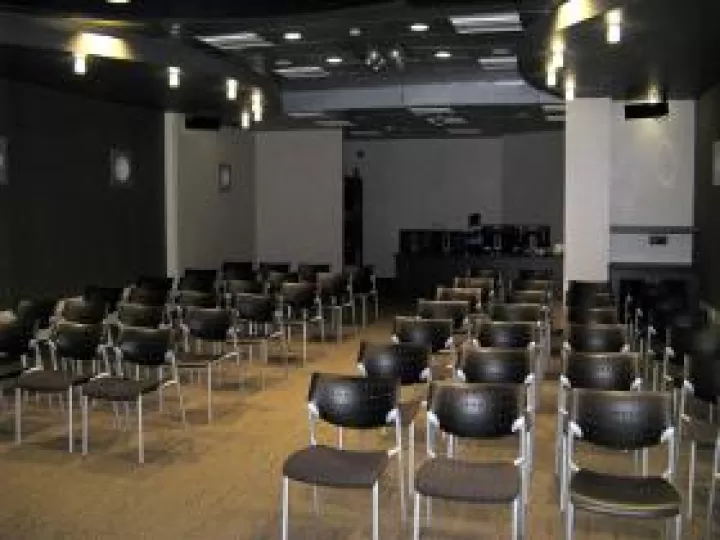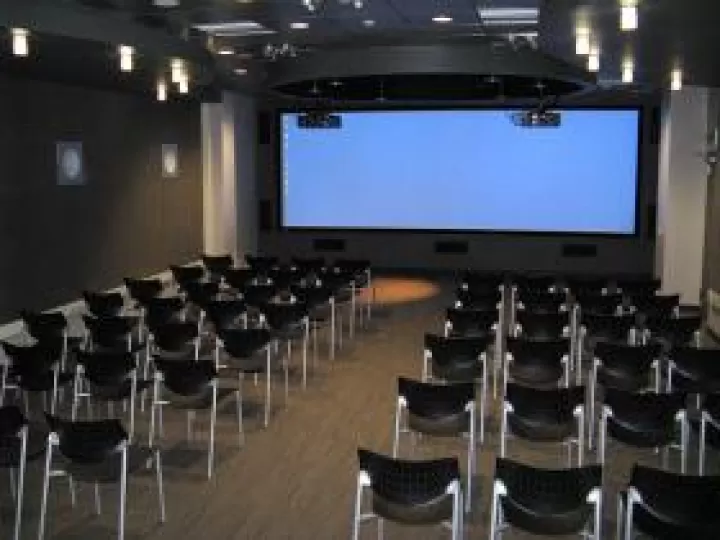 Teleconference Table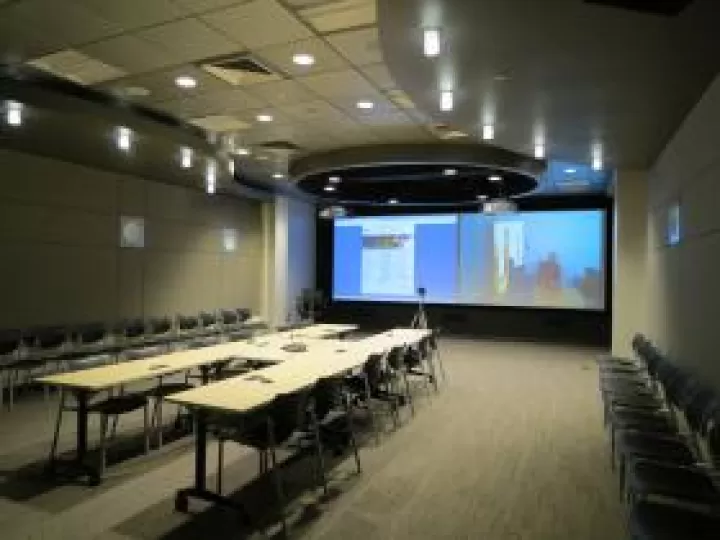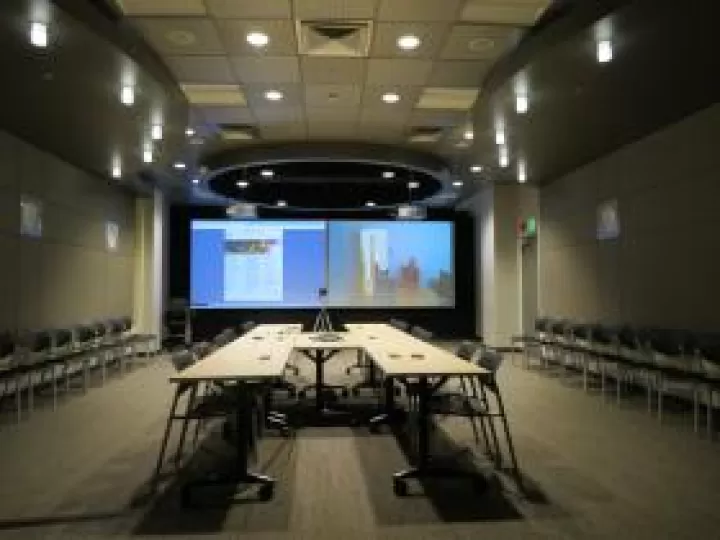 U-Shaped Table