Hoffman2 is UCLA's centralized high-performance computing (HPC) resource. HPC may be a solution for you when your data and compute needs exceed what you can accomplish on a personal computer. Hoffman2 helps keep the UCLA community at the forefront of scientific discovery and creative endeavors by providing access to an advanced computational resource along with user support and training to facilitate its use.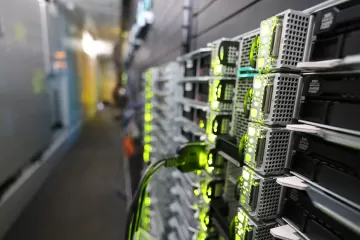 At a Glance
UCLA-managed resource with local support team.

Free to use section available at no cost to researchers.

Pre-installed software, including those specific to chemistry, chemical engineering, engineering, mathematics, visualization, and programming.
Section 1: A general, free-to-use section that is available to all those with an account

Section 2: A section where researchers with significant computing needs can purchase and contribute nodes for their own priority use

Resources include a job scheduler, compilers, applications, and software libraries, as well as storage, including additional paid storage.
All UCLA faculty, postdoctoral scholars, staff, and students can create a Hoffman2 account. 

Non-faculty user accounts need to be sponsored by a UCLA faculty member or researcher that qualifies under UCLA Policy 900 as a principal investigator.
Details
Personal information and other sensitive data, including statutory, regulatory, and contractually protected data—for example, human subjects research, restricted research, student and educational data, and protected health information (PHI)—are prohibited on Hoffman2. Refer to the Hoffman2 policies for more information. 
An HPC cluster is composed of many servers linked together, and each server within the HPC network is called a node. 
UCLA researchers can purchase nodes on Hoffman2 for their priority use. Each node purchase includes technical support, full access to the purchased nodes through the cluster's queuing system, preferred node access for research group members, and connection to the cluster's InfiniBand fabric. 
Nodes can be contributed to the cluster in preferential mode, so that they are only available to the purchaser and their research team, or shared mode, so that they are available to all those who have contributed nodes. The benefit of shared mode is that it increases the overall impact of any one group's purchase for themselves and for others.
Additional storage is also available for purchase at a cost. 
If you are interested in purchasing additional memory or cores, larger drives/SSDs, or GPUs, we can work with you directly to discuss options.
UCLA's Office of the Vice Chancellor for Research and Creative Activities (ORCA) and the Institute for Digital Research and Education (IDRE) jointly launched the Hoffman2 cluster in 2008. OARC's HPC Systems Group manages and maintains the cluster. The IDRE Board provides guidance on Hoffman2 operations and direction, and advocates to the campus for necessary research infrastructure enhancements and expansions. IDRE is co-sponsored by OARC and UCLA's Office of the Vice Chancellor for Research.