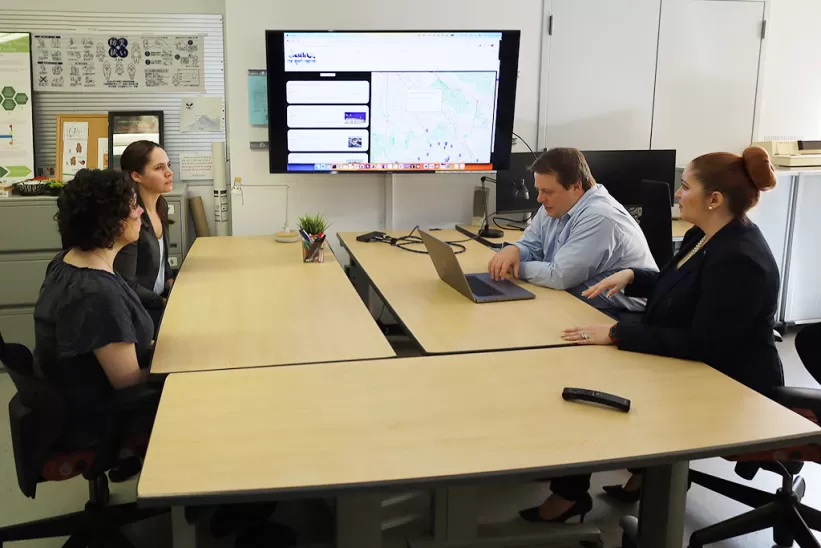 The Technology Sandbox is an interdisciplinary computing facility open to UCLA students, researchers, faculty, and staff researching new technologies for digital scholarship. The open and flexible environment is designed for collaboration.
Access to the Sandbox is limited to those who have made an approved application or by permission from OARC staff. The space is otherwise closed to visitors. 
Location: 4328A Math Sciences Building
At a Glance
The Sandbox lab space supports a wide variety of digital projects, including computer modeling, GIS, web authoring, web programming, graphics, animation, image processing, compression, and archiving applications.  Sandbox users are encouraged to work together to solve common research problems and to share their knowledge, thereby fostering a collegial and progressive work environment.  Staff also provide consultation on project management, software analysis, project promotion and dissemination, and technical support. 
The space includes workstations running specialized software for digital scholarship applications. A list of current software applications can be provided upon request and new applications can be added for project needs with approval.
It also includes a meeting room and spaces for collaborative work. 
Access to the Sandbox is gained through a two step process: 1) make a project proposal to OARC staff or IDRE faculty advisors, depending on the nature of the endeavor, and if approved 2) apply for an account that will allow you access to the Sandbox and its workstations. 
Details
Researchers who have used the lab and related services come from across campus, including:
Geography

Architecture and Urban Design

Engineering

Chemistry

Mathematics

Earth and Space Sciences

Theater Film and Television

Atmospheric Sciences

Music

Design Media Arts

Near Eastern Languages & Culture

Spanish & Portuguese

Urban Planning

UCLA Health

Physics and Astronomy

Anderson School of Management


 
The application asks for basic information only, such as your name, phone number, email address, department, access requirements, and a brief description of the project you are working on. Once you complete the online application, it will be processed and an account will be generated. All applicants granted access to the Sandbox and related facilities must complete  a brief orientation.
Please review the following rules before requesting access to the Sandbox:
Access is granted to you as an individual, and iit does not include any group or organization of which you might be a member.

You will be responsible for any person you allow into the Sandbox that has not been formally granted access.

Access to the Sandbox is via a biometric hand scanner; all applicants granted access must have their hand scanned for authentication and for our records.

When using Sandbox workstations and file systems, there should be no expectation of privacy. As a campus resource, the Sandbox systems are maintained and monitored by OARC staff, some of whom have full access to all of its data and network activities.

You are encouraged to notify us when you no longer need access to the Sandbox and its facilities so your account and access can be disabled.

All applicants granted access to the Sandbox and related facilities must complete an orientation. 

You will require a UCLA Logon ID to get to the request/renewal site. If you do not have a UCLA Logon ID or need to recover your UCLA Logon ID, please visit UCLA Identity and Accounts Manager for assistance, or reach out to support@oarc.ucla.edu with further questions.  
If you have any questions regarding the application process or the rules that apply to you, please contact Lisa M. Snyder (lms@ucla.edu) and Ron Zuniga (rzuniga@ucla.edu).