CESMII,  the Clean Energy Smart Manufacturing Innovation Institute, is the national institute on Smart Manufacturing (SM) for the United States. OARC is the program and administrative home of CESMII, which it operates in partnership with the U.S. Department of Energy's Advanced Manufacturing Office. CESMII drives innovation in SM through a membership network, education and workforce development program, funded research projects, and a Smart Manufacturing Innovation Platform. 
Smart Manufacturing is the application of advanced technologies such as sensors, controls, analytics, modeling, and platforms to increase efficiency in manufacturing. CESMII's mission is to accelerate SM adoption, which will radically impact manufacturing performance through measurable improvements in areas such as quality, throughput, costs/profitability, safety, asset reliability, and energy productivity. By enabling frictionless movement of raw and contextualized data (i.e., information) between real-time operations and the people and systems that create value in and across manufacturing organizations, CESMII is ensuring the power of information and innovation is at the fingertips of everyone who touches manufacturing.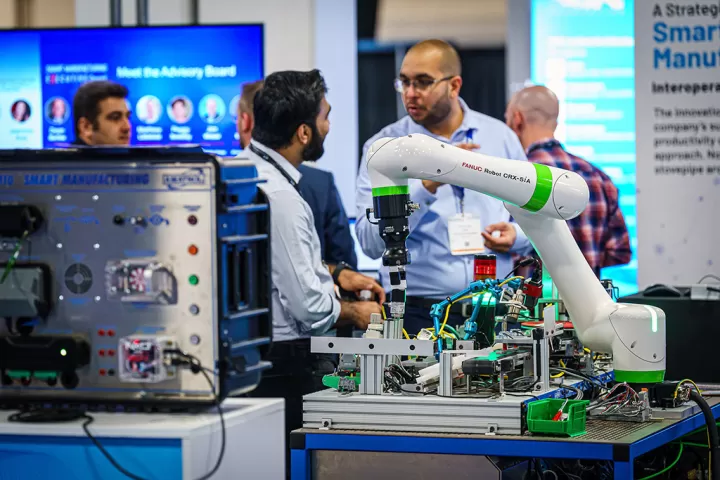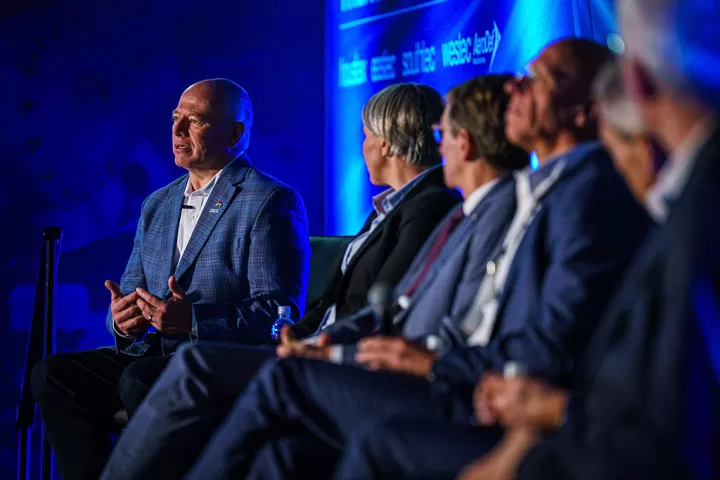 Overview
Through collaborative R&D, CESMII is driving innovation in key "enabling technologies" for SM. It is also building a unified innovation platform, marketplace, and ecosystem to scale SM to all U.S. manufacturers. These advancements in technology and knowledge hold the promise of democratizing SM and converging the worlds of Information Technology and Operations Technology (IT/OT), in turn driving manufacturing performance and energy productivity at scale. In 2019, CESMII launched its SM Innovation Platform™, an industry-first software platform empowering interoperability of 3rd-party SM applications and "Self-Serve Smart Manufacturing" to harness the power of the Internet of Things (IoT) for manufacturers of all sizes. 
Technology Advancement
"Our diverse portfolio of projects are creating solutions that will impact energy-intensive industries like chemical, cement, steel, food and aerospace as well as small and medium manufacturers that are part of large supply chains. We have demonstrated a first-of-its-kind, vendor-agnostic, interoperable platform to enable rapid, cost-effective development and implementation of SM solutions for manufacturers of all sizes.  We are indeed poised to make a dent in the Smart Manufacturing universe!" – Haresh Malkani, CTO 
Through its partnership with the Department of Energy, CESMII funds projects that create opportunities for industry and academic experts to address the most pressing challenges in SM adoption. Learn more about the projects on the projects page of the CESMII website.
Workforce Development
"We're excited about expanding CESMII's network-of-networks and democratizing Smart Manufacturing, doing our part to educate everyone across the diverse U.S. manufacturing ecosystem."  – J. David Porter, Ph.D., Professor, Associate Head for Graduate Education, School of Mechanical, Industrial and Manufacturing Engineering, Oregon State University
Education & Workforce Development (EWD) is one of CESMII's four strategic pillars. The institute is taking steps to democratize the knowledge required to make Smart Manufacturing accessible to everyone who touches U.S. manufacturing through both formal education and less-formal knowledge sharing. Learn more about CESMII's education initiatives on the education page of the CESMII website. 
Innovation Ecosystem
"The Smart Manufacturing Innovation Platform will unlock value by improving quality and reliability through visibility and transparency throughout the Supply Chain, enabling scalable, more cost-effective solutions, and driving greater speed-to-market through formal solution selection and roadmap for execution." – Ken Creasy, Johnson & Johnson Supply Chain
CESMII is "the Home of Smart Manufacturing" and brings together a diverse ecosystem of manufacturers, systems integrators, technology providers, and academic institutions to tackle challenges no single entity can address on its own. CESMII builds community through affinity groups, such as the Small-to-Medium Manufacturers (SMM) Affinity Group, which gives smaller organizations a voice to shape the future of the institute's roadmap and initiatives. CESMII's Smart Manufacturing Innovation Centers are located throughout the U.S. for technology demonstration and training using industry use cases.
"Openness and interoperability are critical to the success of industrial IoT, and we are committed to advancing the industry through the Open Manufacturing Platform. CESMII and their efforts to build a Smart Manufacturing Innovation Platform align well with our strategy, and we are excited to partner with them to simplify the customer journey in manufacturing." ‐ Sam George, Head of Azure IoT, Microsoft." 
Follow and stay up to date with CESMII on social media: